&nbsp
Two Poems by Susan Cohen
Night of the Murdered Poets
August 12, 1952—Lubyanka Prison, Moscow
On the night of the murdered poets, the world
did not stop. Owls made field mice tremble
under the fixed flags of their wings. Sunrise
refused to sadden. In a forest, ferns lifted
their fingers and saluted the fog as always.
Human life continued with its small amnesias,
kettles, children, and bullets still whistling.
The world has more poets and more than
enough languages for ordering executions.
Afterwards, the condemned men's poems,
alive in Yiddish, languished without breath,
the patterned lines unlike snakes
who outlive their skins. Someone named it
The Night of the Murdered Poets
to suggest an essential innocence, or
because it was a title no poet could resist.
Only a few were poets. You can look it up,
while every day existence continues
to write itself without protest. While
the golden willows in Siberia keep bowing.
Not for the poets. Reminding us of weeping
is what some words and willows do.
I Imagine Nechama Writing the Poems No One Bothered to Keep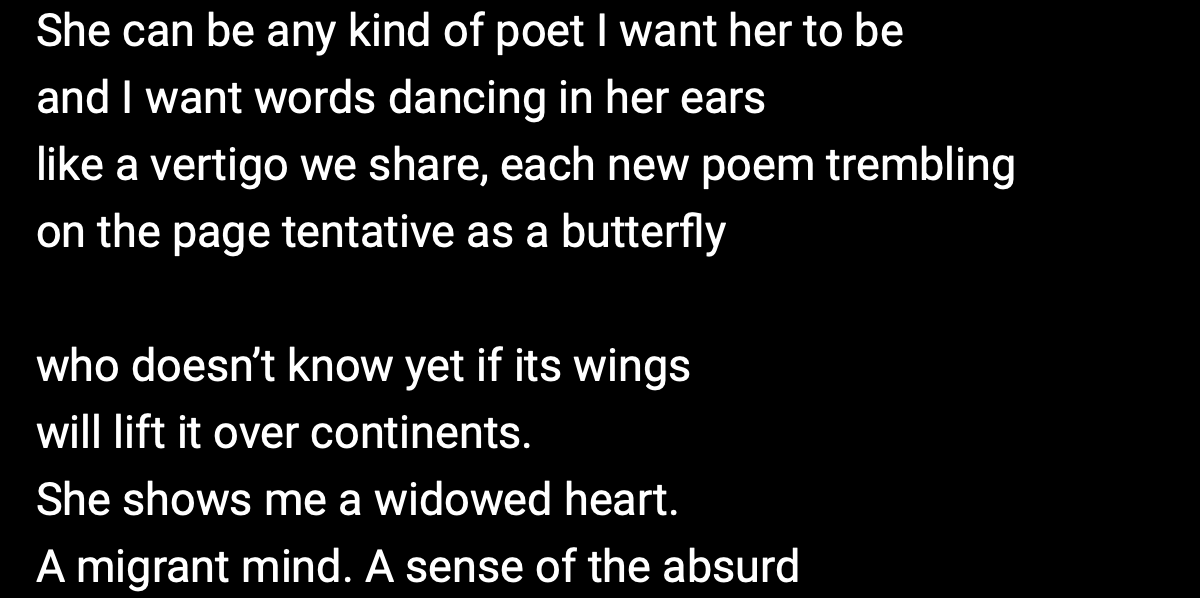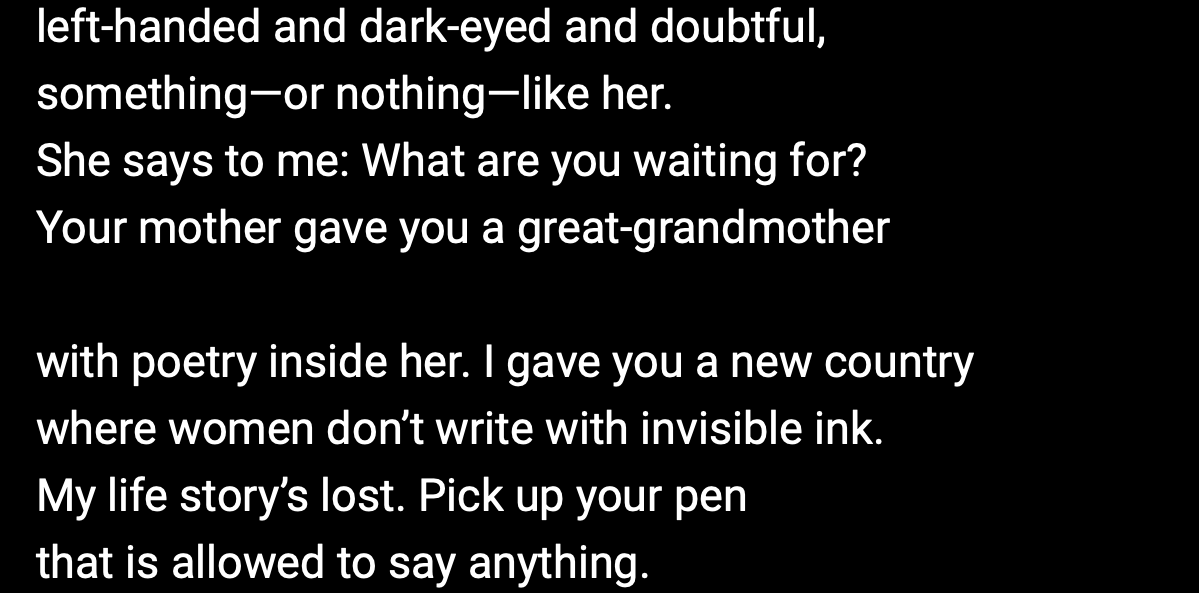 She can be any kind of poet I want her to be
and I want words dancing in her ears
like a vertigo we share, each new poem trembling
on the page tentative as a butterfly
&nbsp
who doesn't know yet if its wings
will lift it over continents.
She shows me a widowed heart.
A migrant mind. A sense of the absurd
&nbsp
at how many Yiddish words describe misfortune,
and how few people can read Yiddish words.
Now she writes at the kitchen table while trollies
clang their brassy Boston tongues and my mother
&nbsp
is a child who hears the poems like dirges.
Nechama boasts the Jewish Daily Forward
chose one poem to print. A grown son says
she dreamed it up. I want her to dream me up
&nbsp
left-handed and dark-eyed and doubtful,
something—or nothing—like her.
She says to me: What are you waiting for?
Your mother gave you a great-grandmother
&nbsp
with poetry inside her. I gave you a new country
where women don't write with invisible ink.
My life story's lost. Pick up your pen
that is allowed to say anything.
Susan Cohen
Susan Cohen's collection, Democracy of Fire, is forthcoming later this year from Broadstone Books. She is also the author of Throat Singing (WordTech; 2012) and A Different Wakeful Animal (David Martinson-Meadowhawk Prize, Red Dragonfly Press; 2016). Her recent poems appeared in 32 Poems, Northwest Review, PANK, Prairie Schooner, Southern Humanities Review, the Southern Review, and won the 11th Annual Poetry Prize from Terrain.org judged by Arthur Sze and the 2021 Red Wheelbarrow Prize judged by Mark Doty. Her translations from Yiddish of the poet Rajzel Zachlinksy can be found in Asymptote, Los Angeles Review, and Women's Voices for Change. She lives in Berkeley, California.
&nbsp